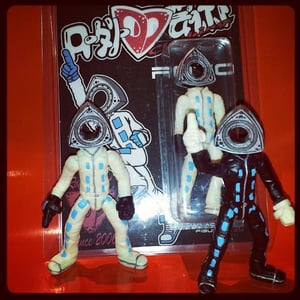 $

15.00
the first in the new line of MAN ACTION FIGURES by mad joe and overkill creations in collaboration with ROTARY HART CLOTHING
and ACCESSORIES
.....designed by mad joe produced by overkill creations and rotary hart for the resin syndicate "masters of the bootleg"....
available in black coverall version or white coverall
4.5 inches 5 points of articulation using my cleverly invented silicon band articulation system, its hand painted and cast resin we only have 10 first run of figures . they come numbered and he comes on a re-usable laminated back card, so you can keep him in the package or play with him .
his race suit is also GLOW IN THE DARK "white version only !!!